If you run a small or medium business (SMB), Google Local Services ads (LSAs) can be one of the best tools to drive traffic to your website. Why? The latest search engine data shows that Google processes more than 40,000 queries per second. That translates to more than 3.5 billion searches daily and 1.2 searches per year.   
It takes just minutes to verify your organization's information and get started with the Google My Business (GMB) platform. This simple step establishes business listings for your company in search and on Google Maps. Once you're established, you can connect your GMB account to Google Ads.
Depending on your business type, you can start running targeted Google Local Services Ads. Before you place your first ad, you should familiarize yourself with Google's seven LSA ranking factors. That way, you can optimize your ads to attract the right customers to your website.
#1 Google Screened or Google Guarantee Badge of Trust
Recently, Google expanded its critical "badge of trust" program, initially only available to select local companies. Here's the difference between the two "badge of trust" programs:
Google Guaranteed

: Businesses earning this distinction must pass an independent background check. Google guarantees satisfaction with a lifetime refund of $2,000 if customers feel dissatisfied with their experiences with these providers.

Google Screened

: These businesses undergo the same background check but are not backed by Google.
What's involved in the background check? According to Search Engine Land, the investigation includes background checks for select personnel, a review of litigation history, and verification of essential insurance and licenses.
Although the review is extensive and time-consuming for businesses, the benefits to search users are clear. People can select to do business with verified providers and feel confident they're choosing companies they can trust.
Note that Google requires a $50 monthly fee to take part in the "Badge of Trust" Program, and it's not yet available in all markets. But the chance to appear at the top of search rankings may make the minimal cost worthwhile.
#2 Search Query Context
Google applies its proprietary methodology to present search results that are most relevant to users' queries. In 2019, Google rolled out a new algorithm that uses natural language processing (NLP) to improve search results. 
What does this mean? Instead of merely assessing words in order, Google now strives to understand the relationships between all the words in a phrase or sentence. For local ads, this allows Google to present the businesses that best address searchers' needs higher in rankings. 
#3 Reviews and Review Scores
Every business knows that positive reviews can draw in new customers. And Google has confirmed that reviews affect ad rankings as well. 
You should know that Google creates a review score for your business that is more than an average of customers' star ratings. Google considers the traffic to your site, optimization of your GMB page, and the quality of your reviews, and how well you manage them.
In ranking your ads, Google assesses both the number of reviews you have and your review score. You can help boost your ranking by addressing customer reviews, whether positive or negative.
#4 Responsiveness to Customers
You must remember that Google will know if customers contact you via one of your local ads. Also, keep in mind that Google will evaluate you based on how your reply quickly. It will compare your responsiveness to your competitors and use that factor to adjust search rankings.
What does this mean to you? Responding to customers is critical if you want to achieve higher-ranking LSAs. 
#5 Proximity to Customers
In its quest to provide the most meaningful results to searchers, Google aims to connect searchers to businesses that are close to them. When you think about it, this approach makes perfect sense. Imagine you're looking for a pizza restaurant. Chances are, you'll choose one nearby instead of trekking across town.
What does this mean for you? Make sure that your business address is correct on your GMB listing. You'll have a better chance of attracting people who are close to you when they search.
#6 Business Hours
Each time someone submits a query that is related to your business, Google will review your hours. If you're open, you'll receive a higher ranking. This approach makes sense since searchers may be looking for immediate service and want to know businesses that are open at the time of their inquiry.
To maximize your exposure, make sure the business hours on your GMB listing stay up-to-date. That will help ensure you earn higher rankings when you are open for business.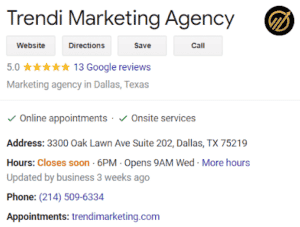 #7 Complaints Received by Google
Consumers can raise complaints about businesses to Google. These can range from inaccurate information about business location or hours to serious allegations of fraud. 
A major complaint or multiple complaints about a company is a red flag to Google and can cause a drop in LSA ranking. At times, Google may suspend companies from the LSA program over significant consumer complaints.  
Safeguard your business by providing accurate information on your GMB listing. And always operate in line with appropriate and ethical business practices to avoid adverse action by Google.
Elevate Your Visibility with Google Local Services Ads
Targeted advertising is a must for every company to gain new business. As a local business, you may need to prioritize your marketing spend on advertising that yields the strongest results. Google's local services ads should be at the top of your list.
Why Google? One of the most compelling reasons to pursue LSAs is that Google only charges you for leads related to your business products or services. You can set a weekly budget tied to the number of leads you want to generate to keep costs in check. Also, you can dispute leads that aren't valid and receive a credit if successful.
To make the most of your Google Local Services Ads investment, you need to fine-tune your ads based on the seven ranking factors. Be sure to keep your Google My Business listing current, stay attentive to customer reviews, and respond to LSA leads promptly. These steps can help you earn high ranks for your Google local services ads and win new customers and more revenue for your company.